The team
The Manticore Classic Racing Team consists of Ben Fietje and son Jarno Fietje.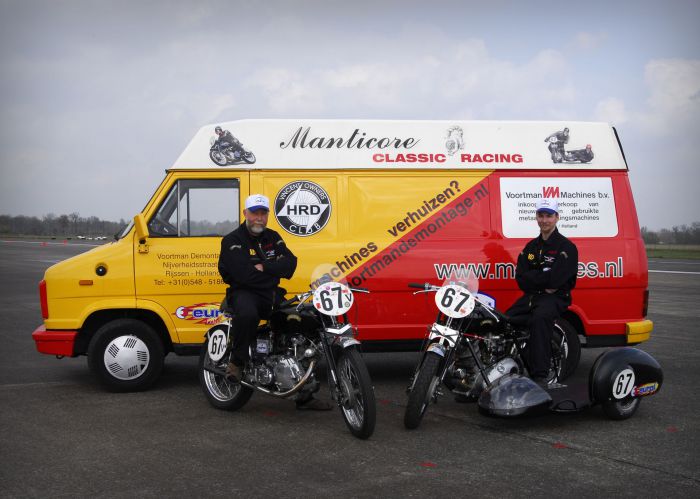 Profile: Ben Fietje
Born 1951
Always been interested in motorcycles ever since he started to work on them and rode them as an 11 year old boy. his first bike being an NSU OSL251 which he converted into a scrambler. Soon being followed by several BSA B31 and B33's and many others such as the whole NSU range,Jawa, Victoria,DKW,Matchless,Ariel and Norton. In the meantime, next to his scrambling activities taking part in illegal road races ,with his 50cc 100+kmh.selftuned RAP. At the age of 16 he discovered one of his lifetime motorcycle favorites the Ducati. he bought a 1967 250cc MK3 when he was 18 years of age and rode it for three years until he sold it in 1972. During his time in the Dutch army he was a dispatch rider, riding Matchless GL3's and Triumph's 3TA's 350cc. In 1976 he got married and picked up motorcycling again whilst he restored a Harley Davidson WLA and rode it to numerous rallies in Holland ,the UK and Germany, before he bought his first Vincent in bits in 1978, a 500 Comet and joined the Vincent owners Club in 1979. Soon after it was followed by a 1000cc Rapide and some more 500cc Comets and a fleet of Ducati and Benelli singles, which were most of the time converted for racing purpose.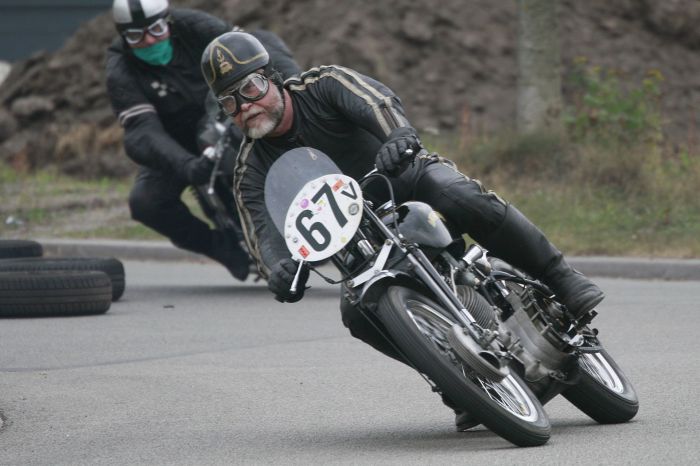 Profile:Jarno Fietje
Born 1980
His passion is music and he plays bass in several brass bands and the harmonica and guitar in his own bluesband; the Jack Barker Band, named after one of his all time hero's in the Vincent Owners Club. When he was 16 years of age he played on one occasion together with the late legendary Lester Butler of the Red Devils when they were on tour in Holland. He grew up with motorcycles and at the age of 16 started racing on a 125cc Benelli Imperiale SS. Now being a father of two lovely children himself, he's not solo racing anymore, but is now in the progress of rebuilding a Royal Enfield with sidecar for road use. Ever since he started racing he acted as a passenger for several outfits in the racing scene and since 2003 he is the regular passenger in the 500 Comet outfit with Ben.